Highlights
1. I'm going to Wednesday evening write-ins at the library
hosted by E.C. Murray.
There's usually three of us there and we just sit and type away. It's wonderful and possibly the best writing I'm doing all week. We don't talk much, we just say hello, pull out our laptops, and write in quiet companionship.
2. I've hit a better stride with my exercise goals
- moving from 1 mile back up to 3.5 miles of walking each day.
It turns out that my dog can't walk with me anymore, which bummed me out for a long while. He turned 12, he has some spine issues, and he needs to rest most of the time now. He can only make it for 1/4 mile outings, although he wines at the door when I go for my longer walks.
3. I finished up orientation and everything I need to start graduate school online at Western Governor's University, starting March 1.
I'll be taking classes to get a graduate degree in Instructional Design.
4. My Lenten Reading Journey has really helped my faith walk this year.
I'm reading 1 and 2 Samuel, Psalms, John, and some other selections: The Narnian, The Chronicles of Narnia, and LOTR. I am waking up excited to read the Bible each morning, and I'm reading the others in the evening.
Favorite Fiction Books and Movies of February (other than Lenten reads mentioned above):
Ready Player One
is from an atheist point of view (it's pretty loud about it for a paragraph or two), has at least one other section that I think goes a little long, and I wouldn't recommend
Ready Player One
for anyone under 16. Having said all that, it might be surprising that I recommend it, but
the rest of the story is off-the-hook amazing.
For anyone into 80s geek culture,
Ready Player One
has every reference you could possibly want, and more.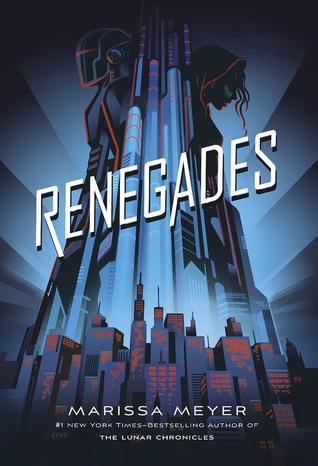 Renegades
by Marissa Meyer (
Lunar Chronicles
fame) is a superpowered-dystopian, and I found the main character (an anti-hero/villain) and her motivations interesting.
Renegades
is definitely a new start to a series of what promises to be a plot-twisting narrative set in an interesting world where heroes may not be as heroic as they seem. (I read Brandon Sanderson's super-powered trilogy,
The Reckoners
, last year - it's another superhero-dystopian.
Renegades
feels slightly meatier and older. I think it's more YA, while
Reckoners
is more MG.)
Don't Cosplay with My Heart
by Cecil Castellucci was a fast YA read for me and I enjoyed it. The MC, Edan, dresses up like her favorite comic book character to feel strong enough to deal with a mess of family problems, deals with boy trouble, and starts to discover her own strengths in the midst of everything, including her strength as a cosplay artist.
The Hidden Masters of Marandur
(The Pillars of Reality, #2) by Jack Campbell is a fun read and definitely gets more into the character development of the two leads - Master Steampunk Mechanic Mari and Master Mage Alain - as they discover more corruption in their two guilds and decide to take action. I enjoyed the first book in the series in January and hope to read a book a month for a while.
Black Panther
is the best movie I've seen so far this year aka the only movie I've seen in the theater this year, but I think it's going to stay up in my top 5 for the year. I loved that the secondary characters were more fully realized than I expected. His female General kicks butt in a beautiful red dress in one scene that I think I could watch on repeat, and his STEM-smart sister is awesome. Good directing, editing, acting, and beautiful CGI all round this out to be a visual masterpiece of film.
Full Metal Alchemist
- the Netflix Original with live-action actors was a movie I enjoyed thoroughly. I have to admit, I'm only slightly familiar with the anime series and the manga series so I'm not a
Full Metal Alchemist
expert, but I had so much fun watching this nod-to-anime live-action movie with all of the beauty of English subtitles that I plan on re-checking out the anime and the manga at my local library. I may become a
Full Metal Alchemist
junkie, who knows? It's been a while since I've been sold on a anime series. (Did anyone else watch
Bubblegum Crisis
in the 90s?)
The Olympics
... well, I haven't watched all, but I've been stunned by how amazing all of the athletes are and thankful for their camaraderie in the competition. Just wow.
I'm looking forward to turning the calendar for March 1st
because I'll start my online classes, my oldest daughter will come home for a short break, my youngest will have spring break later in the month, and I will be up-scaling my exercise to get ready for surfski-kayaking* in April. Plus, I'll be putting together a fun book of my students' best writing for the year. It will be busy, but I'm looking forward to all of it.
What have you been up to these days?
*surfskis are a special brand of open-faced kayak meant to cut through the waves, surf on waves or wake, and stay generally upright. The Gig Harbor Canoe and Kayak Racing Team lets beginners (both young and old) use them to gain confidence and strength before getting into a racing kayak (skinny little boats that flip easily and don't return to upright without taking them to the dock).
All movie and book covers are from IMdb or Goodreads.